Changing roles for the transmission and distribution networks
To combat anthropogenic climate change, it is clear that the European power sector will have to undergo a comprehensive overhaul to significantly reduce its CO2 emissions. However, climate change is not the only issue, and other environmental problems as well as other concerns, such as security of supply, spur initiatives to reduce our dependence on fossil fuels and develop renewable energy sources for electricity production.
>> Read more
---
Emission targets are out of reach without a massive technological shift in the Europe's basic industries
"There is an urgent need to demonstrate and implement carbon capture and storage, CCS, and other carbon dioxide mitigation technologies", says Pathways researcher Johan Rootzén, who recently presented his doctoral thesis at Chalmers University of Technology.
>> Read more
---
System benefits for European wind power
In a future European electricity system, wind power and other variable renewables may constitute a large share of electricity production. One way of managing the inherent variability of wind power is to take advantage of the weather patterns when allocating wind power over larger areas, so that the aggregated output of wind power displays lower variation than that of a single region.
>> Read more
---
No plans exist to mitigate the basic industries' climate impact
A debate article by Filip Johnsson and Johan Rootzeen (in Swedish)
>> Read the article: Dagens Nyheter, October 15, 2015
---
Powerful analysis tool shows the way for tomorrow's energy systems
Thanks to a unique mathematical modelling package, it is now possible to study the future of Europe's electricity generation systems in detail. The modelling package is part of one of Europe's best analysis tools, which has been developed by a research group at Chalmers. "The advantage of the tool is that it includes the whole chain, from each individual power plant to the entire energy system," says researcher Lisa Göransson.
>> Read more
---
Good opportunities for the European Building Stock to save energy
By means of a new method, researchers at Chalmers demonstrate that the European building stock could reduce energy consumption by up to 60-70%. 'The techno-economical potentials are considerable, although to make a breakthrough strong policy measures will be required,' said Érika Mata, energy technology researcher.
>> Read more
---
Results from the project:
European Energy pathways : towards a Sustainable European Electricity System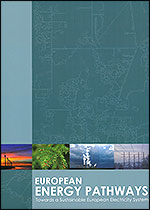 The second book reporting on the progress and results of the research programme "Pathways to Sustainable European Energy Systems", covering the period 2010-2013, is now released.
The book can be ordered from:
Energy Technology, Dept. of Energy and Environment, Chalmers,
SE-412 96 Göteborg, Sweden
e-mail: Marie Iwanow, Chalmers
---
Results from the first phase of the project:
"European Energy Pathways" and
"Methods and Models"

Download the report
"Methods and Models" (4MB)
These books can be ordered from:
Energy Technology,
Dept. of Energy and Environment, Chalmers,
SE-412 96 Göteborg, Sweden
---
>> Read more in our News archive
---